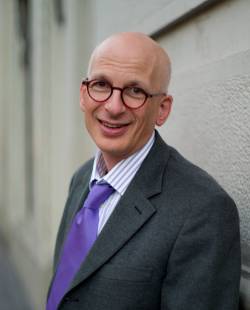 I've been fascinated with marketing since my experience learning about business as a member of Junior Achievement in high school.  I've read books on marketing, followed marketing experts like Jeff Slater at TheMarkeingSage.com and focused some of my studies at Duke's Fuqua School of Business in marketing, including a class from then professor and now Dean,  Bill Boulding.  Great marketers see the world through a different lens.  One of my favorite marketing teachers is Seth Godin.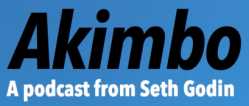 Seth is a technology entrepreneur, a world-renowned blogger and a prolific author.  Seth uses simple, eloquent language, combined with his unique ability to look beyond the obvious, to inspire 'ah hah' moments.  I recently subscribed to his new podcast called Akimbo and the first episode I listened to was titled 'It's not about the chocolate'.
As a baker of chocolate chip cookies, it immediately caught my attention.  Listening to Seth tell the story of how criminal defense attorney Shawn Askinosie founded Askinosie Chocolate struck a few chords with some of my experiences at Anna's Gourmet Goodies.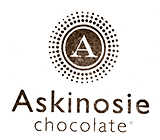 Shawn was making lots of money as a lawyer.  And yet, he realized two important things:  he had no life outside of work; the stress of his job would, sooner rather than later, kill him.  He took his skills of the legal trade and applied them to learning all he could about chocolate.  Not only how it is grown, but how each step in the process turns a raw material into the finished product that we Americans consume about 9.5 lbs. of each year.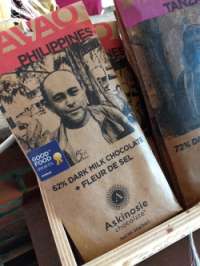 As Shawn built the company, he designed it so that Askinosie Chocolate has a purpose that goes beyond chasing sales dollars.  They were one of the first 'bean to bar' chocolate companies, working directly with cocoa farmers to convert their labor of love into a superior product.  Askinosie Chocolate does not focus on getting into big box stores or every specialty retail outlet that would have their product.  Instead, Shawn focuses on using the company and the profits to solve other problems.  Like providing 1 million school lunches to students in Tanzania and the Philippines where much of his raw material is sourced.  Like building a school for at-risk kids in Missouri.  It wasn't just about the chocolate, but rather about doing something that makes an impact on people's lives.
"Everything you do, from the way you answer the phone to the design of your packaging, from your location to the downstream effects of your work, from the hold music to the behavior of your executives, and even the kind of packing peanuts you use – all of it is a form of marketing your brand"
            -Seth Godin, This is Marketing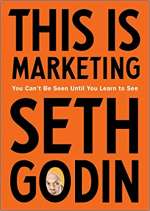 In his latest book, "This is Marketing", Seth explains that marketing really comes down to all the things a company does and why they do it.  Marketing is not just ink on paper or a catchy slogan, it's how a business operates in the world and how each part of that business interacts with customers, suppliers and employees.  The greatest marketers in the world understand their role is not to seek out anyone who can fog a mirror and call them a customer, but rather to attract those people who value the things that are most important to a business.
This past holiday season during one of our frantic days packing and shipping our gourmet cookie gifts, I was having a conversation with my friend, colleague and mentor, Jack Spain, who was there helping us get products out the door.  I shared a phone call from someone who received a gift box from us and called to share some feedback.  "Of course, everyone loved the cookies, but what made me do a happy dance was the fact that you used biodegradable peanuts for packing".  It caught me a little off guard, but we are always happy to get feedback of any kind.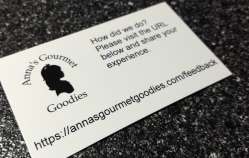 As Jack was putting together another package and inserting the little business card that encourages feedback, he reminded me, "Don't you see Chris, this is all part of your brand, your marketing".
It gave me pause to stop and thing about all the things we do at Anna's Gourmet Goodies not only to make great products, but to take care of our suppliers and our customers in a way that makes them feel good about doing business with us.  How we answer the phone.  Spell check customer's message on the gift card.  Double check shipping addresses.  Cut the end of our ribbons in a 'V' shape.  Include instructions on warming cookies.  And of course, using biodegradable peanuts.
The label for our chocolate chip cookies has a total of (10) ingredients.  However, the ingredients that go into building our brand and marketing our business are infinitely more complex.  Seth and Jack reminded me of that.  We want people to love our cookies and brownies, but if that was all there was to our business, it would be easy for customers to find another product they liked.
Askinosie Chocolate has done a remarkable job of scaling their business in a scant 12 years.  And while Anna's Gourmet Goodies has yet to reach some of their milestones, I'd like to think we have a few things in common.  You'll probably not find either of us in a warehouse club, a discount store, or food mart any time soon.  Anna's won't be opening a café where we'd end up selling sandwiches, coffee and other such things to keep the doors open.  We'll continue to look for ways to impact our community beyond what happens in the bakery.  And we certainly won't be saving a few pennies by cutting back on the quality of our ingredients.
We make, bake and ship cookie and brownie gifts for customers who understand that sending someone a gift is an act of kindness that can have profound benefits for many years to come.  And we do all those other little things that when added together, make up the recipe for our brand.  Because you see, it's not just about the cookies.  But it doesn't hurt that they are really, really good.