My neighbor Brian once told me that 'We live in the golden age of podcasts'.  I believe that is true. The quantity and variety of content is staggering.  However, like many things on the Internet, not everything is worth our precious and limited time.  I believe Simon Sinek's content is one of those rare gems, worthy of enjoying and curating.
I am a fan of his books and his lectures.  I wrote about Simon's most famous Ted Talk based on 'The Why' some years ago and how it relates to Anna's Gourmet Goodies.  Recently, I was listening to one of his podcasts done for Richard Branson's Virgin Startup organization.  At the end, he had a conversation with Richard and recalled asking him about which of his businesses he would most like to be remembered for.  To his surprise, Richard answered somewhat sharply, "Don't remember me for my businesses, but for my children.  What type of people did they become?"
We started Anna's Gourmet Goodies in 2001 and named the company after our daughter, Anna.  The logo is her silhouette made by Karl Johnson, a master scissor artist we met at the NC State Fair.  His client list includes Jennifer Garner, Reese Witherspoon, Oprah, Hilary Duff, Tom Cruise & Katie Holmes, Drew Barrymore, and many others.  We did not know it at the time, but Anna was in good company.
As our company rounds the corner on 20 years in business and Anna is making her way towards her own path in life, I've been thinking about our business and many of the lessons we, as parents, sought to instill in Anna.  Our goal with both is to leave a legacy that lives on beyond our years and the cookies and brownies we make every day.
Do what is right
This might be one of the most difficult things to do in business and parenting.   A business exists to provide goods and services in return for payment that ultimately amounts to more than the cost of those goods and services, a profit.  But many times, doing what is right might be in direct conflict with that goal.  Rarely do you find an absolute answer to every situation, you must follow a guidepost.  At Anna's Gourmet Goodies, our standard is to treat others the way we'd like to be treated.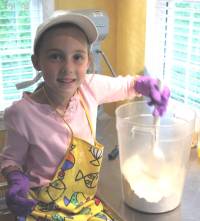 We make choices and do our best to guide our children towards goals that extend beyond the next few minutes, days or weeks.  Doing what is right in life, and business, is ultimately about focusing on a long time frame, years or decades into the future.  When Anna was in high school, she picked up some part-time gigs as a tutor.  One of her clients was a young girl who had just moved to the area and struggled with learning in several subjects.  Not only did Anna help with her school work, but became a mentor and a friend.  It was the right thing to do.
Do your best
In Miguel Ruiz's book, The Four Agreements, A Practical Guide to Personal Freedom, one of the agreements is to 'Always do your best'.  It is a guiding principle at Anna's Gourmet Goodies.  When it comes time to undertake almost any task, we strive to follow this rule.  Not perfection, but the best we can do at the time.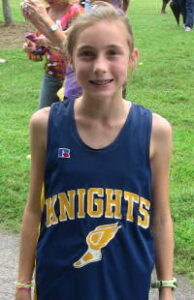 As parents, we always tried to help Anna understand and follow this advice as well.  No child is perfect.  The number of people who grow up to win a Nobel Prize, a Gold Medal or a World Championship are a tiny fraction of the population.  But when you do your best, it creates a sense of self satisfaction and fulfillment that cannot simply be measured with a trophy or certificate.
Anna tried a number of sports, including cross-country running in middle school.  She did not always like it, was never first across the finish line, but we supported her, encouraged her and she did her best.
I remember the words of my swimming coach from High School, Jim Erickson, who used to tell us, 'I don't care if you are dead last at the end of the race.  As long as you can say that when your hand hits that wall, you've given it your best, then you are a winner.'
Take responsibility
This is a tough one to follow.  At a time when businesses and individuals go to extraordinary lengths to avoid taking responsibility, you might ask, 'Is it really important?'  While I can't say any single ingredient is the secret to success in business, taking responsibility is high on the list.  We strive for perfection in everything we do at Anna's Gourmet Goodies, but alas, we fall short from time to time.  We've shipped packages to the wrong address, left names off packages, and in some cases the packages we ship did not arrive through no fault of our own.  As difficult is that can be sometimes, we take responsibility.  We do this for two primary reasons:  First, to learn from any mistakes and to build trust with our customers.  Secondly, when you work with someone that is willing to step up and take responsibility, customers learn to trust them.  This might be one of the most valuable assets a business can acquire.
Teaching responsibility is an equally difficult task as a parent.  If you've had any part in raising a child, you have heard this phrase at some point, 'That's not fair!'  This is often true, but sometimes the lesson is so valuable that it is worth the cost.  I remember one time when Anna damaged someone's car.  Yes, it was an accident and the result of someone else's bad judgement, but ultimately, we made her take responsibility for the repair.  Yes, I did call in a few favors at the repair shop to 'ease the pain' a bit, but it was one of those defining moments that helped shape the person she is and will continue to be in the future, long after I'm gone.
Give back
At Anna's Gourmet Goodies, we try to take some small portion of both the money and other resources we have and give it away.  Sometimes we let others know and even write about it, like the events at Ronald McDonald House, Caring House, Shepherd's Table and more.  Not for praise, but for inspiration for others to do the same.  Sometimes, we do little things that no one ever hears about.  Both serve a purpose and are part of the DNA of our business.
We always tried to help Anna develop the same 'muscle'.  From her experiences at our church serving the Raleigh area, Habitat for Humanity, to YMCA mission trips to food banks and homeless shelters, to volunteer work at the Duke Cancer Center and Rex Hospital.  We wanted Anna to develop the skill of service to others, learning to share some of what she has been given.  Sometimes we hear about this, and others, we don't.  Occasionally she lets it slip out that she did something or gave someone some money to help them out, not for recognition, but because it is part of her DNA as well.
Make people happy