I've probably told the story of Anna's Gourmet Goodies and how it all started maybe a thousand times or more. From casual conversations to small groups to classes filled with MBA students, I've shared the ups and downs, the ins and outs of starting this business. But there is a piece of the story that I've never talked about, until now.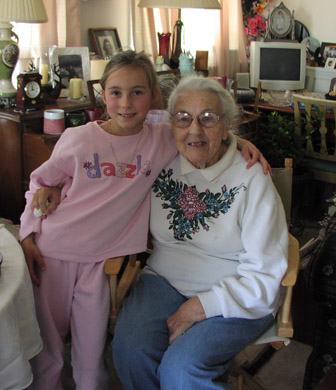 This picture features my daughter Anna (the primary business namesake) and my mother's sister, Lois Bradley. Aunt Lois (as almost everyone I know calls her) is the one Aunt from my mother's family that I'd have to say I have spent the most time with, all my life. From my earliest memories of childhood throughout my adult life, there are pages and chapters filled with memories that belong to Aunt Lois.
My mother, Anna Duke, was one of nine children and most of her brothers and sisters lived not too far from Louisville, Kentucky where I grew up. I don't recall exactly how often we got together to have dinner, but it was frequent enough for me to develop two very strong memories; family and food. Whether it was simply going to Aunt Lois' house for Sunday dinner, or a holiday gathering at our house, it seemed that getting together with my Aunts, Uncles and cousins was a common event. And there was always plenty of food and desserts on the table.
I can remember a number of occasions where Mom would take me over to Aunt Lois' grand old house on Village Drive in Louisville. I remember that place almost as if I lived there. The cracks in the steps. The time weathered brick exterior. The fragrant, yet musty smell of an old house. And the kitchen.
On one occasion when I was probably about five years old, Mom dropped me off to spend the night sometime around the Christmas holidays. I walked into the kitchen where Aunt Lois was busy working and announced with a big smile, "I've got a surprise for you!". "Well, what is it Christopher Robin?" she said. "We're going to make some cookies!" I announced.
Aunt Lois laughed and you guessed it, we made cookies. Was that the tiny mustard seed that lay dormant for so many years before it turned into my work? Perhaps.
As it is with most families, the road of life is rarely straight and almost never a four-lane highway. Aunt Lois moved to Maryland and opened a business with my Uncle Brad. I went to college then moved to North Carolina.
In the late 80's, I found myself in a particularly stormy time in life. Mom had died, my first business failed, and I landed back in Kentucky. Without a regular job or much money in the bank, I found a room and a bed at Aunt Lois' house in Frankfurt. Her husband, Uncle Brad, died some years ago, and she was, not surprisingly, willing to take on a roommate.
The house had changed, but the feeling of being around Aunt Lois was still the same as when I stood in her kitchen almost 25 years earlier. It was both a difficult time for me in some ways, but magical in others. We planted a garden. We went on trips. And we managed to cook up some goodies every now and then.
I don't remember exactly when I first heard Aunt Lois use the word, 'goodie'. It's one of those words you learn that you always associate with someone. I can remember her tasting something, most often a cookie or dessert, smiling and saying, "Boy, that's a goodie".
Add another 15 years to the calendar, and I find myself in North Carolina. I was working full time, but Debbie and I were starting a business, out of our home. I had this idea that I wanted to make really great desserts (later, that turned into the current cookie business). We thought about a name. I had a silhouette of Anna we had made at the North Carolina State Fair on my wall. Why not name it after her? But what else?
We came up with a number of different ideas, but I kept coming back to this word, goodie that had become a part of my vocabulary. "How about 'Anna's Gourmet Goodies'?" We mocked up the logo. Debbie agreed, and well, here we are.
Just like any good recipe, ingredients come together to make something greater than the individual parts. As it goes with most of our lives, we don't always see how these things will eventually came together, but I know that among the ingredients that make up Anna's Gourmet Goodies, Aunt Lois most certainly played a role.
On Saturday afternoon, September 29th at precisely 3:00 p.m., Lois Bradley took her last breath and exited this earth leaving behind a life well lived. Her son and two daughters were there to see her off. I don't know what your faith background tells you, but I'm absolutely certain that she was greeted warmly by, among others, her late husband, Colonel O.C. Bradley and my mother, the late Anna B. Duke. There is no doubt in my mind that God picked up a goodie on Saturday.
Born in 1921, Lois Bradley grew up one of nine children on a farm in Morehead, KY. She served in Women's Auxiliary Army Corp in WWII. She raised her family. Working at an electronics company in Louisville, she gave a now famous young woman her first job, Diane Sawyer. She and her husband started a high end glass and gift business. She was cast as Hiawatha's mother in a small independent film. And not too many years ago, she hung out with Gordon Lightfoot backstage after one of his concerts. Aunt Lois lived a rich, full and wonderful life.
It is never easy to say goodbye to a loved one who has, in so many subtle ways, had a profound impact on your life. But for me, the memories she leaves behind, are as rich and creamy as a double scoop of ice cream from our friends at Homeland Creamery.
On Wednesday, I'll help carry her remains to her final resting place in the Lexington Cemetery. After words of hope and faith, we'll hear the crack of rifles firing off a 21-gun salute. A solemn bugler will play taps.
Thank you, Aunt Lois, for all the things you did for me throughout my life. And whether I'm baking one, or a thousand cookies, I'll smile and remember that the roots of that love of making something really good trace back, in part, to your kitchen on Village Drive. I hope that everyone who has the opportunity to bite into a cookie from Anna's Gourmet Goodies will smile and say, "Boy, that's a goodie!"