August marks fourteen years since Debbie and I first incorporated the company that is now Anna's Gourmet Goodies. Like all businesses, we've had ups and downs, victories and defeat. Along the way, we've collected stories, relationships and experiences that will, hopefully, make it into the book someday. In the meantime, we strive to inspire you in some way, make you smile, or maybe even shed a tear. Whether you're a customer or someone who takes time to read this post, thank you.
It's been over two years since I stopped sending out a 'newsletter', opting instead to share brief stories about experiences that are relevant (sometimes loosely) to Anna's Gourmet Goodies. I've received more than a handful of comments and smiles from people who read the email, many of whom I had no idea were on the list. Our business has grown nicely these past two years, so I'll continue for now.
This month, I have two stories – one recent and one that while, not so recent, is an important part of understanding more about Anna's Gourmet Goodies and what drives our business.
I met Michael Davis, a customer at Crossroads Infiniti (one of our customers) during a routine visit to drop off some cookies. After noticing his Army cap (retired), I shook his hand and thanked him for his service. We struck up a conversation and he shared a part of his story.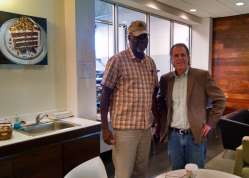 He was in the Army Signal Corp. During one of his final deployments to Iraq, he had the opportunity to visit the hole where Saddam Hussein was captured and actually sat down with his feet dangling inside. As you might expect from his towering size, he did not go down inside. He was struck by the fact that someone who was at once so powerful, ended up tucked away in this tiny hole in the ground.
I have no idea how many people in the world have done this, but meeting Michael and hearing about his experience made my day and gave me something to think about. A reminder that everyone has a story, and unless you take time to ask, you might miss out on a good one.
When he left, I'm certain the service representative gave him a package of our cookies. A small gesture, but I hope that the cookies made by our hands served as another 'thank-you and left him with a brief moment of happiness.
One of my favorite stories is one that is difficult for me to tell without my voice cracking and my eyes starting to water. I've spoken about it many times to various groups, but it far easier to write.
We sent Annalise gifts on a few occasions when her Aunt Tracey ordered cookies from us to send to her. She told us Annalise's story, being diagnosed with Neuroblastoma while barely two years old. We sent her cookies once for her birthday, and included a mylar balloon and a stuffed animal (no, you won't find this on our website).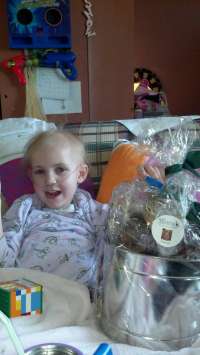 In 2012, Tracey sent us a note telling us that Annalise was going to be the featured child in a St. Baldrick's event in her hometown and wondered if we might send some cookies. Having fought the cancer bravely for 5 of her brief 7 years, we eagerly agreed, put together a label with her name and picture and sent out a large tin bucket of cookies to help raise money, along with a special package for Annalise. The only thing I asked for in return, was a picture.
I included a letter to Annalise, telling her how special we thought she was and how we would pray for her and ask God to give her time to do her work here on Earth. We never met, but I wanted her to know how special she was and that she inspired us with her spirit.
We made sure the cookies arrived shortly before the event. While we were not there, we understand it was a big success. The picture we received was more than enough reward for us.
On Sunday, March 18, the day after St. Patrick's Day and a few days after receiving our cookies, Annalise lost her battle with cancer. I wanted so much to put some magic ingredient in those cookies to cure her disease, but alas I could not. What I can do, is to keep her memory alive by telling her story, just as I am doing right now.
You can learn more about the upcoming 5k Run/Walk for Kids Cancer on September 30 here or read more about her on this website, AnnalisesFriends.
It would be nice to think that of the hundreds of thousands of cookies and brownies we've sent out over the years have touched lives in a special way or inspired similar stories. Maybe. Maybe not. That's okay.
It's like the story of the small boy walking down a beach littered with starfish who tossed them one by one back into the ocean so they would not die. When asked why he did this, and told that he could not possibly make a difference, he picked up another starfish, tossed it back and replied, "It made a difference to that one!"
I share stories like these because I believe that in the case of people like Michael and Annalise, we all have the opportunity to make some small impact on the lives of customers, friends, family and strangers, even if for a brief moment.
Share a story. Listen to a story. Pass on a story. It matters. It's part of being human.
Sharing stories is important to us because it helps our customers (and perhaps future ones) understand who we are and why we do what we do. We can't say for sure, but with every package that leaves the bakery, it is our hope that the person who receives it will enjoy the work of our hands and at least for a brief moment, experience a memory that will become part of their life's story, whatever that may be.
A lofty goal, but it makes for a good ending to the story.