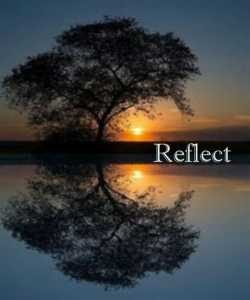 I'm a fan of most Disney movies.  One of my favorites of the 'recent' releases is Cars.  I like all the characters, especially Tow Mater and his ability to drive forwards backwards.  Actually, the ability to look back while moving forward can be a valuable asset in life and in business.  It fits perfectly with my one word for 2018, 'reflect'.
Early this year I turned 58 years old, the same age as my Mom was when she was diagnosed with a Glioblastoma (GBM), the worst of the worst of brain tumors.  It was a great opportunity to use my word and reflect back on my life and our business.
While Anna's Gourmet Goodies was named after our daughter, she was named after my Mom.  Despite having said goodbye more than 30 years ago, Mom's influence on my personal and business life is ever present.  I think of her not just on Mother's Day, but almost every day.
I wanted to do something special to honor her this year.  One of my favorite memories was a visit back to Kentucky after her surgery when she had lost her hair.  I was driving a beautiful 1971 MGB convertible, it was late summer and she wanted to go for a ride.  I can still see the smile on her face and her blue head scarf flapping in the wind.  I decided to let my hair grow a bit so that I could donate it and help a patient who would like to have their hair once again, flyin' in the wind.
As the winter months turned towards spring, I was thinking I'd like to tie this together with Anna's Gourmet Goodies.  One of the benefits of owning this business is being able to not only help support charities, but hopefully inspire others to pursue their passion.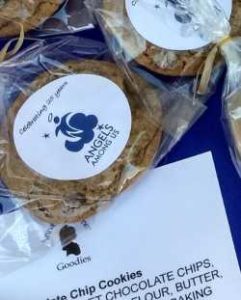 I was making a delivery to our friends at Crossroads Infiniti and struck up a conversation with a customer in the waiting room.  She had a Duke Hospital badge on and I asked where she worked.  As it turned out, Kathy is the chief administrator for Duke Neurosurgery.  I shared my personal story and without hesitation, she immediately understood.
I told her I'd love to find a way to raise awareness, a little money and have some fun by finding a patient do the honors of clipping my pony tail.  She told me about the Angels Among Us fundraiser for the Preston Robert Tisch Brain Tumor Research Center coming up at the end of April and put me in touch with Ellen.
After exchanging emails and conversations, Ellen was able to get me a spot on stage at 9:30 and have a patient do the honors of cutting my hair.  We created a custom label for the event and would sell packs of cookies, donating 100% of the proceeds to the event.
We arrived early and setup our table of cookies.  I've had the opportunity to participate in a variety of fund raising events, but this was unlike any I've ever experienced.  I love hearing stories and my personal connection to brain cancer made them even more poignant.  Everyone I spoke with had one.  Some brought smiles and some tears, but in every case, there was a sense of hope and celebration of life.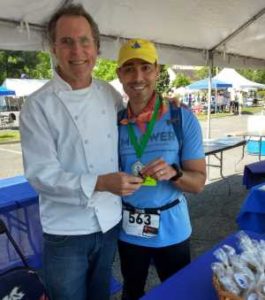 When the time came for me to go on stage, Ellen introduced me to the survivor who would be wielding the scissors and doing the honors.  Nestor could not have been a more perfect match for me.
It turns out that three years ago Nestor was diagnosed with a GBM, the same tumor that Mom had 30+ years ago.  He looked fantastic.  After surgery, chemo and treatment at Duke, Nestor was a perfect example of extraordinary medicine, miracles and sheer determination to live life to the fullest.  Meeting him was indeed a gift.  Read more about Nestor here….
We had the chance to talk before taking the stage.  He told me some of his story.  I met his Mom, a delightful woman who moved from the U.S. Virgin Islands to be closer to her son.  I shared a few stories about my Mom, one that made us both laugh..
Finally, it was time.  After being introduced to the crowd, I shared my refection about turning 58, my Mom and my desire to honor her.  I talked about this event and the journey from an idea to standing there on stage – how everything seemed to line up perfectly.  How does this happen?  I suggested (and the crowd agreed) that there are indeed, angels among us – we just have to be watchful, grateful and pay attention.
Nestor clipped my small pony tail and we spent the rest of the day, selling cookies, listening to stories and alternating between wet eyes and laughter.  Near the end of the event, Nestor played the keyboard while a survivor sang 'Angels Among Us' made famous by the group Alabama.  I cried happy tears knowing that my Mom was smiling down on me that day.
At the end of the day, we handed over funds from cookie sales, happy that we were able to push the total raised (over $2.35 million) ever so slightly higher.  We ended up with extra packs of cookies and dropped them by the pediatric ICU waiting room at Duke.  When I reflect back on this day, I can easily say that personally and for Anna's Gourmet Goodies, it was the perfect recipe for moments of happiness.  I'm pretty confident that Mom would agree.  Thanks and Happy Mother's Day.
---
For more information on Angels Among Us, including ways you can help, please visit their website: http://angelsamongus.org.