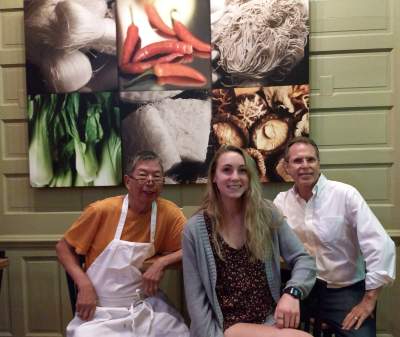 It doesn't take a lot of effort to talk me into dinner at Chef David's Dumpling & Noodle Bar.  His signature half-fried dumplings don't come from a food-service box – they're lovingly made, by hand, from scratch, one at a time.  Anna sent me a message letting me know she 'had a taste' for dumplings over her fall break, so we went out on a date to Chef David's restaurant.  Dinner was great, but it was also a little sad.
I met Chef David Mao when he had his former restaurant, The Duck and the Dumpling on Moore Square in Raleigh.  In the early days, we were in the wholesale dessert business.  I made a sales call on him to pitch our cheesecakes and pies and he agreed to give us a try.  While not an immediately obvious fit for a Chinese fusion restaurant, our Key Lime Pie, New York Cheesecake, Tiramisu and a few others were on the menu for over 7 years until he sold that restaurant.
In the early days of Anna's Gourmet Goodies I got to know a variety of chefs and restaurant owners.  They were an interesting group and on the whole, some of the hardest working people I've ever met.  Restaurateurs work incredibly long hours, most often when the rest of us are finished work for the day.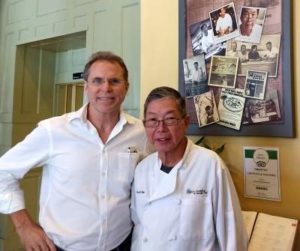 I learned a lot about running our business from watching and talking with them.  Some became friends and I'm happy to put Chef David in that group.  One of my favorite memories was standing in the kitchen and watching Chef roll out and assemble his dumplings.  He mixes the dough from flour and water, and grinds up the pork filling from fresh meat, adding his other secret ingredients.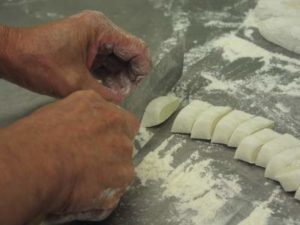 I watched as he cut off the small pieces of dough, rolled out the seemingly perfect circles, scooped in the filling, and sealed them up.  With the hands of a master at his craft that no machine will ever match, he filled tray, after tray, after tray of these bite size delicacies.  His hands work the dough quickly, yet gracefully repetitious, artfully crafting each one.  I'd often ask how many he's made and Chef would laugh and tell me he has no idea.  It was never about the quantity – but the quality.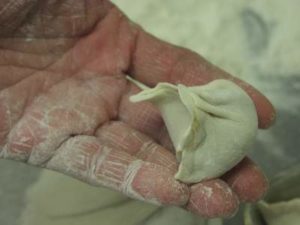 I think about Chef David almost every time we make a batch of 'cookie pucks', as we call them.  I mix up the dough and load the hopper while Debbie and Dawn shape, weigh and roll each one, by hand.  We've had a variety of other 'cookie-helpers' apprentice with us in the bakery.  Without fail, they all walk away with a different level of appreciation for the amount of work it takes to produce a hand made product.  Like Chef David's dumplings, our cookie gifts don't start in a factory and come out of a food-service box.
I also watched Chef and how he interacted with his customers.  He delighted in sharing small tokens of his appreciation to the diners in his restaurant.  I'd watch him make his carrot ginger soup, almost as effortlessly as he made dumplings, and personally serve up a small sample at the table.  Not on the menu, not on the bill, just a little extra or 'lagniappe' as we learned from our friends at Uptown Endodontics in New Orleans.
Anna was about 5 or 6 years old when we first started delivering to Chef's restaurant and he would always send her home with an order of dumplings after a delivery.  A little lagniappe that she remembers to this day.
It's difficult to articulate, but there is a subtle difference between someone who serves customers for the business, and someone who serves customers from the heart.  In my opinion, Chef David is one who serves from the heart – employees, vendors and customers.  Once you've had that experience, it's hard to settle for less.  We try very hard to focus on the same type of service at Anna's Gourmet Goodies.
We've been out of the wholesale dessert business for a number of years, long before Chef opened David's Dumpling & Noodle Bar.  But we still go by to visit, savor his hand made creations, share a laugh and a smile, and enjoy a little lagniappe every now and again.
During our last visit, Chef David let us know that he had sold the restaurant and would at some point, be retiring.  I always knew that day would come.  I am happy for him, but also a little sad.  He's earned it and I am honored to have been along for at least a part of his journey.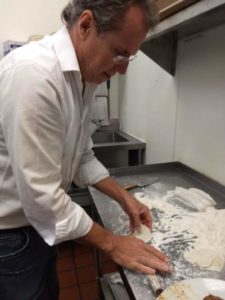 I did ask for one last favor, to come by and watch him make dumplings one last time.  He agreed and even gave me a lesson and a chance to try my hand at making a few dumplings.  He was patient and a great instructor, but my hands are a long way from having the skill of a master when it comes to making dumplings.
There's something magical about watching and learning from someone who is passionate about what they do.  About using their hands to create food that not only fills the belly, but feeds the soul.  About watching how they treat others and run their business.
We try to do that everyday at Anna's Gourmet Goodies and I am grateful I had this one last opportunity to watch and learn from a master at his craft.  With the Holiday Season just around the corner I'm sure I'll get weary at some point from making batch after batch of our cookies.   But I'll think of Chef David, smile and get back to work, hoping that at least a few of the people enjoying our cookies will think of them in the same way I'll always remember Chef David's dumplings.