Like most business owners, when someone asks the question, 'So, how did you start your business?' I love the opportunity to tell the story. For some people, starting a business is quick, like turning on a light switch. For some, it involves a story that starts long before the first customer appears. I had the chance to sit down with the first Anna's Gourmet Goodies customer recently, the one who helped launch our business, in an unusual setting. Our story starts with a cheesecake, not cookies, long before this first customer appeared.
I was working at SciQuest during the 'dotcom days' of the late 90's and early 2000's. Work was fast paced, constantly changing and investor money flowed like water from a garden hose. We worked hard, played hard, and had fun with some interesting events. One of those was the 'Cheesecake Bakeoff'.
I had baked a few cheesecakes over the years, all based on my Mom's recipe that I got from her over-stuffed box of food-stained index cards. It was made with eggs sugar and cream cheese, but included a sour cream topping, lightly baked, adding a tang not found in traditional cheesecakes.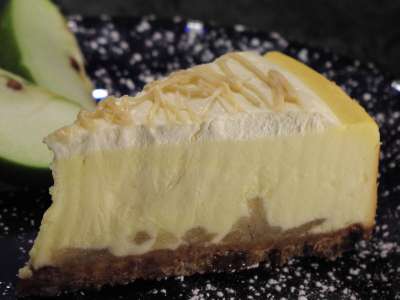 The night before the contest, I made a last minute decision to enter. While I knew the recipe was good, I wanted top prize and figured I needed to kick things up a notch. I made a crust with graham crackers and finely chopped dates. I diced up some apples, sautéed them lightly in Kentucky Bourbon, and layered that on top of the crust. I poured in the cheesecake mixture, baked it and added the sour cream topping. Finally, I whipped up a bourbon caramel sauce and drizzled it on top.
It looked great and I felt the addition of a little alcohol might give me an edge. As it turns out, I was right. My Apple Bourbon Cheesecake was crowned Grand Champion. I was awarded bragging rights and a baseball cap that I still have to this day. After winning, the recipe stayed dormant, for awhile.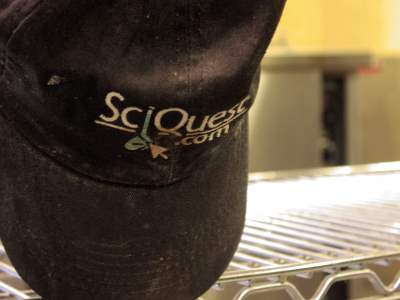 Months passed and after repeated encouragement to sell the cheesecake, I finally decided to see what it would take to bake and sell them. I contacted the NC Department of Agriculture and the Town of Wake Forest, secured permits and inspections, and we were set to start baking. But first, we needed the most important ingredient, a customer.
I had been eating lunch at a small café in Cary called Chef John's. As a somewhat regular patron, I got to know the owner, Chef John, and decided to ask him if he would give the cheesecake a try. He agreed.
I rounded up packaging from a local store, baked one cheesecake and dropped it by the restaurant. I checked back with Chef John after a few days and he said people 'Loved it!'. So we made another. Then another. Then another.
From that one customer, we grew the business organically, adding new cheesecakes and eventually pies, finding customers who were willing to pay for our products to finance the growth. It grew until we decided in 2003 to take a leap of faith and build Anna's Gourmet Goodies full time.
We continued to grow our customer base and Chef John was a customer even after he closed the café and focused strictly on catering. But his business and his career, ended in January 2011 when he was arrested and charged with murder for the death of his wife.
Both Debbie and I made deliveries and got to know his wife Donna as well as Chef John. The news story was a shock to both of us. He was tried, convicted, and sentenced to life in prison.
It was the first time I was this close to someone convicted of this type of crime. It wasn't something I'd ever connect with Anna's Gourmet Goodies and our customers. I thought about him off and on over the years, but it wasn't until my neighbor interviewed me for his research project on hiring offenders that I began thinking of visiting Chef John.
Keith is a retired Federal prison warden and was completing his PhD. "It was never my job to judge whether or not anyone was right or wrong", he said. "I just did my job". It took awhile, but at some point I felt compelled to track down Chef John, reach out, reconnect and thank him for what he did that was good, help me start Anna's Gourmet Goodies.
With Keith's help, I looked him up in the North Carolina prison directory and found he had been transferred to the Albemarle Correctional Institute. After calling, sending him a letter and completing the necessary forms to apply for a visit, I scheduled a trip to visit him on a Sunday afternoon.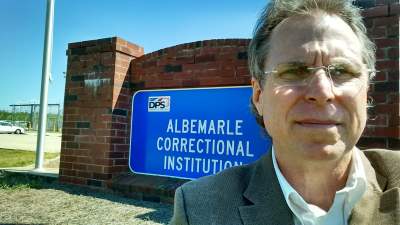 It was my first visit inside a Federal Prison and not at all like what I've seen in the movies. The guards were firm, but friendly and the grounds were immaculate. After passing through security, I was sent to a large open room with tables and chairs to wait. A few minutes later, Chef John came out.
He had a big grin on his face, gave me a warm welcome and immediately asked about our cheesecakes and his favorite, our Key Lime Pie. We sat down and started catching up. If not for the surroundings, we might as well have been sitting back at the Café talking about old times.
I shared news about our business and how we had changed to only making cookies and brownies. I updated him on my family, as Anna was in a car seat when we first started deliveries to the Café. I asked about his life in prison and he filled me in on some of the details of his life behind bars.
We did not talk about the details of the event that led him there. That's not why I came. My visit was not about judgment, but gratitude and closure.
I try very hard to tie the threads of my stories back to Anna's Gourmet Goodies in a way that makes sense and provides you, the reader, with some measure of value. To give you food for thought that might inspire you to action in your life and/or business. And, to help our customers, both current and future, better understand the ingredients that make up our business beyond butter, flour, sugar and eggs. This one, has been more than a little difficult, but no less important.
For me, it was a chance to say thank you to someone who, despite his current circumstance, helped me along my journey. In turn, I had the opportunity to help Chef John remember back to an earlier time and smile, if even for a brief moment. As I've written before, that's fundamentally what we do at Anna's Gourmet Goodies – create memories and hopefully generate a smile or two. Since the prison system would not allow me to do that with a cookie or a slice of pie, I used my words, a smile and a handshake. All of which make up a winning recipe for a brief moment of happiness, no matter how you slice it.
Thank you, Chef John.