I started publishing OutsideTheOven.com almost nine years ago. One of my competitors back then (they've since closed down) started a blog that was titled something like 'as the cookie crumbles'. I liked the idea, but wanted to focus on something a bit different. My first post was about a river trip with Anna and a chance encounter with a snake.
I wanted to share something about myself, our company and what we do that doesn't involve flour, chocolate, butter, sugar and eggs – the ingredients we use to make cookies and brownies. I thought that if I shared more about who we are and what we've learned, it might help us make an emotional connection with customers and inspire our customers to do the same with their clients.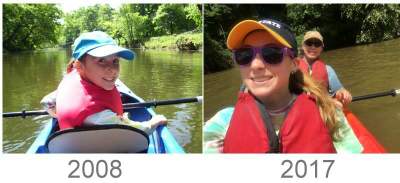 This Father's Day, I had the chance to once again spend the day on a river (thanks to the Haw River Canoe and Kayak Co. for a great experience) with Anna and it was the perfect way to spend an afternoon. No snakes this time, but I did spend some time in thought about the journey we've been on and why I started down this road in the first place. Stepping off the bus at SciQuest back in 2003 to venture down the road less traveled required a lot of thought and a major leap of faith.
My word for 2017 is 'time' – a culmination of lots of small moments. I've spent a fair amount of energy this first half of the year, thinking about how I spend my time both at home and with Anna's Gourmet Goodies. It is, after all, the only resource we can't acquire more of.
Running a business and raising a child have similarities in that they both require an extraordinary amount of time. Anna was off to college last year and while the quantity of day to day time requirements went down, it still requires thinking time and those moments when we did connect were all the more valuable.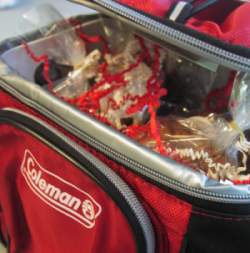 At Anna's Gourmet Goodies, we spend our time (days and weeks and years) creating brief moments for our business clients and their customers. Our cookie gifts are impactful, connecting one person to another and creating a memorable moment when they open the package. We've developed some very efficient processes for managing orders, but we still spend a few moments thinking about each one and how it might impact our customer and the recipient. It's one ingredient that we think makes all the difference.
My Father's Day gift was time on the river with Anna and a delicious meal at the Saxapahaw General Store. The pizza with field grown tomatoes, fresh mozzarella and basil was simply outstanding, but the value of the time with Anna was priceless.
When we returned home, Anna presented me with a letter she wrote, thanking me and reminding me of some of the other times when we took small road trips. Little things that when stitched together add up to something greater than simply minutes on a clock.
Over the past few weeks I've spent time at Anna's Gourmet Goodies doing what we do throughout the year. Sending out birthday gifts for clients, a special batch of graduation party favors for a long time customer, thanking a business owner's clients for their recent purchase, and more. Little things that create moments to make someone's day a little brighter.
Outside the oven, I helped a friend repair his front porch so his wife could get into the house when she returned from the hospital, helped a college student service his car, and took this river trip with Anna.
As a husband, father and business owner, I'm always thinking about how I should be investing my time. It's a precious commodity that's made up of more than just minutes, hours and days. Focusing on that word this year has reminded me that it's helpful every now and then to step back, get outside the oven and look at the moments we're investing into relationships, a business, products or whatever.
Just like baking great cookies, you have to make sure you're adding the right ingredients in the right amount. Based on the last cookie I tasted and watching Anna grow and develop, I'm pretty happy with how things have turned out so far.