I enjoy being in the company of good people.  At Anna's Gourmet Goodies, we're blessed with an abundance of amazing customers, cookie helpers, advocates and cheerleaders.  When I get a chance to go outside the oven, I try and seek out people and events with those same qualities.  Spending time with Howie Rhee and the folks at Duke Innovation and Entrepreneurship are always at the top of my list.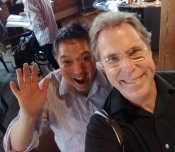 I first met Howie when he invited me to be a judge in the Duke Startup Challenge, an event where student entrepreneurs pitch their real-world businesses competing to take home a $50,000 top prize to help launch or grow their company.  Howie is one of the most generous and connected people I know on this planet.
He welcomed me into the Duke entrepreneurship community and introduced me to incredible entrepreneurs like Sean Lilly Wilson from Fullsteam Brewery, Jay Mebane of Bootstrap Advisors and Melissa and Doug Bernstein from the company that bears their name.  There's nothing quite like spending time outside the oven in the company of good people.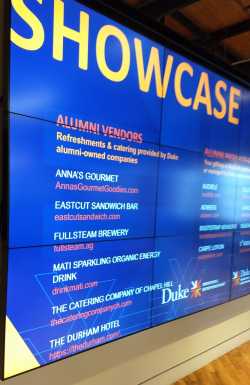 Duke I&E hosts a variety of events and Anna's Gourmet Goodies is proud to be a frequent alumni vendor.  Dr. Monika Hirschbichler ordered brownies for the first Transform event this April, a 3-day, invitation only event for Duke alumni entrepreneurs.  Howie invited me to attend and I eagerly cleared my calendar knowing this would be an opportunity to spend quality time with some of the best and brightest from Duke.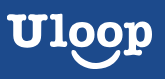 Roughly 100 people were scheduled to attend.  We were organized into teams – mine consisted of Kasper Kubica, founder of Carpe Lotions and Corey Creek who operates two businesses – ULoop.com and LiveFashionable.com. Kelly Garvey is building a new platform to help people understand the impact of public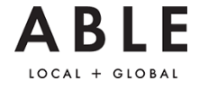 policy and Christine Schindler who built her

company, PathSpot, to solve the problem of discovering food-borne bacteria using a cutting-edge digital scanner.  She built the first prototype with parts from Radio Shack, incredible.  Once again, I found myself in very good company.
We began the evening with an exercise called 'The River of Life'.  Using markers with paper by Melissa and Doug we drew a pictorial view of our life, starting anywhere and ending here.  It reminded me of how I see the journey of starting a business.
"It's like going whitewater rafting.  You want a good team in your raft, everyone helping paddle.  Someone must be the navigator.  Sometimes you float along gently, enjoying the scenery.  Sometimes you are in the throws of raging, violent turbulence, paddling furiously and trying to stay in the boat.  Sometimes you get stuck on a rock.  But in the end, the goal is to make it down the river safely, with everyone still in the boat and enjoy the ride."
We shared our stories over dinner.  It was the perfect way to move beyond resumes and bios, getting to know the real story behind the team.  It felt good to have an amazing group of people in my boat.
Wednesday's agenda opened with a team session, followed by a variety of breakout sessions on a range of topics including finance, technology, operations, social, cultural and emotional challenges.
During the morning break around 10 a.m., we heard a deafening boom that shook the room.  We stopped and looked around at each other, wondering what just happened.  It sounded like an explosion.
The news broke quickly and looking out the window, we saw the plume of black smoke rising into the air.  As it turns out, a few blocks away, a broken gas pipe resulted in a massive explosion.  An entire building collapsed sending debris throughout the downtown Durham area.  We learned later that in addition to several serious and life-threatening injuries, sadly, the sole fatality was the owner of the coffee shop where the explosion happened.  He spent his last minutes warning his customers to stay away from the danger.  Standing in a group of business owners made the impact of such a tragic loss even more personal.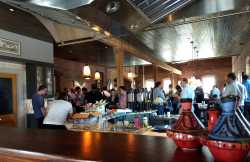 Our building was closed and had to be evacuated.  Fortunately, one of the attendees offered up his spacious rooftop home in downtown Durham.  The entire group walked to our new location and gathered to continue the journey.  Howie led us in a moment of silence for the victims of the explosion.  This close-knit group gathered in, a little closer.
We continued the schedule for the day, not missing a beat.  I've been to conferences and seminars with breakout sessions, but nothing like this event.  Most are led by speakers and experts who have experience and knowledge, but are ultimately there because they have something to sell.  No one at Duke Transform was there to sell.  It was an event focused completely on sharing experiences, wisdom, being transparent, vulnerable, and in many cases, asking for help.
The day ended with a fireside chat from a man who knows what it means to transform an organization.  Coach Cutcliffe came to the Duke football program in 2007 at a time when it was not uncommon to give away game tickets just to fill the stands.  With some of his first team members in attendance as successful entrepreneurs after their football careers, Coach shared his stories of what it takes to win, to take a hit, and to get back up again.
One of his first actions as the new head coach was to cut the locks off all the lockers.  When you build a team of quality people like Coach Cut, you don't need them.  Coach reminded us of the importance of surrounding yourself with good people.  "They will determine your future."
The goal of Duke Transform was more than simply a conference where entrepreneurs gather and learn a few things.  It really was about creating an environment where people from all types of businesses, backgrounds and cultures were comfortable enough to not only share what they know, but where they need help.  That is the point where transformation is possible.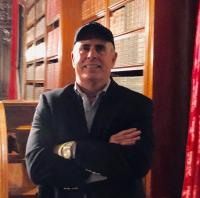 My favorite definition of transformation comes from my friend and mentor August Turak.  He describes transformation like this:
"When you give a thirsty man a drink of water, you transform his condition.  When a poor man wins the lottery, you transform his circumstance.  But when Mr. Scrooge wakes up on Christmas morning, he has a transformation of being."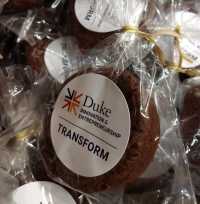 Ultimately, I think we all want to end up transforming more than simply our condition and circumstances.  Those measurements come and go.  At Anna's Gourmet Goodies we always strive to go beyond simply making products and filling orders, to changing the way people feel after they receive a gift of our products.  People quickly forget what you say, but they always remember how you make them feel.
Getting outside the oven and spending time with good people who share the same struggles, challenges and passion is a great way to remember the real purpose of the journey.  And for these few days, my boat was full and I definitely enjoyed the ride.