I shared the 'Starfish Story' in an earlier post and I was touched by the number of people who reached out to let me know how much they enjoyed the story. It's about making a difference, one act at a time.
It's pretty easy these days to take a look around your neighborhood or the world and be overwhelmed by the number of people in need. Instead of throwing in the towel, I remind myself that one gesture matters.
At Anna's Gourmet Goodies, we regularly receive requests for donations for a range of organizations, especially during this time of year. Some we've supported in the past, and some find us through Internet search. And while we simply can't say yes to every request, it is something we genuinely enjoy doing.
October was Breast Cancer Awareness month for 2015. In the US, about 1 in 8 women will develop invasive breast cancer over the course of her lifetime. (Let that sink in for a minute…) With numbers that high, it is not surprising to see so many organizations working to take on this insidious disease. While that can be a good thing, the shear magnitude of the problem can be a little overwhelming.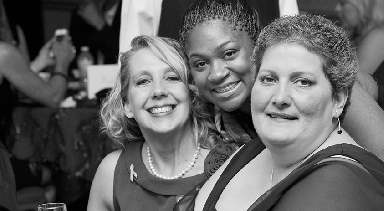 We're fortunate to have an organization in our area focused on making a difference for some of these women, one at a time. 1in9 is an organization whose ultimate goal is to ease some of the burdens that come along with the diagnosis of breast cancer. These might be emotional' physical or financial. They seek to make sure that women who find themselves to be the one in nine (or eight) don't make that journey alone.
On November 14, 2015, they'll be holding their annual fundraiser, A Pink Tie Affair at the Masquerade Ball. We'll be providing cookies for the sponsor and guest tables along with items for their auction. Specifically, donors will have the chance to bid on certificates to send a gift from Anna's Gourmet Goodies as a part of the initial care package women accepted into 1in9 receive.
Find your one
If giving back is something you've incorporated into your business and/or your life, congrats and keep on keepin' on. If not, I'd encourage you to find the one starfish you can help with your time, talents and/or treasure. Turns out my Mom's advice was once again, spot on. It's not gift, but the thought that counts.
One more thing
There's one more reason why I'm giving back to 1in9 this year. Last October my wife Debbie received a phone call from the radiology group asking her to come back for a second mammogram. She was not nearly as worried as I was, writing it off as one of those things that happens sometimes.
After the second mammogram, the doctor went back thru all her records for the past 10 years and determined that indeed, something showed up that did not look right. They wanted to go in and do a biopsy.
The few hours we spent in the doctor's office that day went by in slow motion, each minute felt like a day. It was obvious that the staff at the reception desk had experience and training managing anxious husbands. Maybe the cookie samples helped a little. I can't say for sure.
The next few days waiting for the results felt like years. It all happened so fast, but seemed to take forever. The procedure was on a Friday and I'm certain it was the longest weekend of my life.
Finally we got the call to come in for the results. When the doctor opened the door to the room and came in, I could see from the smile on her face that we were indeed blessed that Debbie was not going to be one of the nine women on this day.
This year it's estimated that nearly a quarter of a million women will not be as lucky as Debbie. They'll be diagnosed with invasive breast cancer and begin a new chapter in their life. And for at least a few of those women, we'll have the honor of sending a small package, filled with cookies and love that hopefully, will make the first few steps of this walk just a little bit easier, and not quite so lonely.
P.S. If you don't have an organization like 1in9 in your community and are moved to help in some way, learn more by visiting their website 1in9.com.