It's easy to say, but hard to do.  It doesn't matter what business you are in, where you work, or what stage of life you currently find yourself, the challenges we all face are abundant.  Some of these can be overcome, some must simply be endured.  There are resources that can help, but sometimes something as simple as a kind word of encouragement can have life changing consequences.  Ron agrees.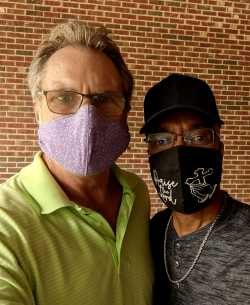 We first met many years ago when my daughter and his son attended the same private school.  We were parents, focused on encouraging and helping our children make it thru the challenging middle school years.  In addition to school functions, we'd see Ron occasionally delivering the mail around town.
Ron is the pastor at the Lakeview Missionary Baptist Church.  From fatherhood to the pandemic, Pastor Ron has always been there to help in some way.  I can't remember a time when he failed to offer up a big smile, a helping hand, a kind word, just the right verse, and/or a word of encouragement.  One of my favorites was his simple, yet powerful advice, 'Stay encouraged'.
We ship probably 99% of our orders via USPS Priority Mail.  Occasionally we'll ship a package via Express and on rarer occasions, we'll use one of the other carriers.  I've shared stories in the past of our experiences with the USPS and in particular, those people on the front lines – the individuals who show up every day and move what has become an overwhelming volume of packages.
In 2020, the USPS delivered some 7.3 billion packages to more than 161 million delivery points.  I'll do the math for you – that's an average of 44.2 packages per delivery point.  And some small portion of those packages were cookies and brownies from Anna's Gourmet Goodies.
Running a business like Anna's Gourmet Goodies is akin to conducting an orchestra.  One important difference is that all the players are not on stage together at the same time.  They come from as far away as Madagascar, where our vanilla supplier, Cook's, acquires most of their beans.  To the wheat fields of the Western US, where organic farmers nurture the grain to maturity, then transport it to Lindley Mills for processing.  Butter, eggs, and sugar all start in a field somewhere, and a host of hands pick up these ingredients and pass them along, hopefully at just the right time.
Beyond the ingredients, we rely on the people and companies making boxes, ribbon, tape, labels, ink, toner, technology and more to play their instruments at just the right time.  Business, like music, works when everyone in the chain hits their notes at just the right time.
Once the order is placed, we pull together all the ingredients and produce the product, a gift of our cookies and/or brownies.  In our final movement of this symphony, we hand that product off to our friends at the Wake Forest Post Office to begin the journey, along with the 7+ billion other packages, to their final destination.
There are so many hands that we'll never meet along the way but having a group of people at our local post office has made this final, and in some ways the most important part of the Anna's Gourmet Goodies experience, possible.
I can't name every person from their staff of 100+ who help us on a daily basis.  Supervisors Wesley and Marsha are always there to lend a hand.  And when he's not out on a route delivering the mail, Pastor Ron is there as well – ready, waiting and smiling.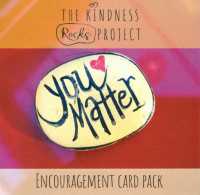 In 2019, we incorporated the 'Kindness Rocks' project into some of our customer outreach.  If you have not heard of this, I'd encourage you to visit their website.  They recently added a new 'Encouragement Pack' of messages to their cards.  When I saw this, I immediately felt this was something we needed to re-visit in 2021.
This year is turning out to be one of the hottest summers on record.  The pandemic has re-emerged, threatening our physical health, and draining us emotionally.  Hurricanes.  Wildfires.  Global unrest.  There is simply no shortage of challenges that we all face in some form or another.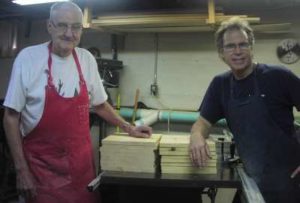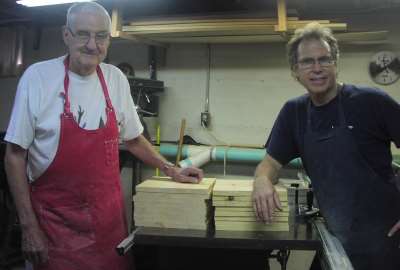 On a personal level, the COVID-19 virus has ravaged Debbie's family, with the latest delta variant relentlessly attacking the vaccinated and wreaking havoc on those who unfortunately, have incurred its wrath.  Sadly, it helped end the life of my Father-In-Law, Richard Geiger.  You may remember reading about him in this post.
But today, and most every day throughout the week, we'll tap the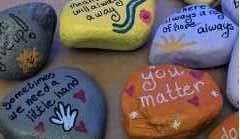 podium, turn on the oven and assemble a group of packages that Pastor Ron and many others will usher to the delivery point.  We hope that the cookies and brownies themselves deliver more than a little nourishment, but a feeling of happiness, of kindness, of hope.  And depending on what the person placing the order asked us to include, there might be a few words on encouragement on the card.
In any case, you can rest assured that our message to those receiving our products that might be facing any of the host of challenges they face today, is the same one Pastor Ron shares with me.
Stay encouraged.